Register Now!
Priority Registration Deadline is June 5th
Final Registration Deadline is June 15th
BUR Camp Flier Summer 2015 pdf
Kodaly Application (Ages 4-8) pdf
Four Tracks
For the absolute beginner to learn their first instrument or begin learning a secondary instrument
Track for Elementary Students (ages 8-13)
Track for Young Adults (ages 14-22)
For Intermediate (or Advanced) musicians that want to learn how to flow in worship on their instruments and dramatically increase musical skill
Track for Elementary & Young Adult Students
Private Lesson Intensive
Registration

– (above)

Early registration and scholarship application Deadline: email/postmarked by May 22
$20 per student; $35 per family

Registration Deadline: postmarked by June 15
$35 per student; $50 per family
Registration is nonrefundable
Pricing & Accommodation
Students ages 14+
$345 – Tuition, Lunch & Dinner
$450 – Tuition, Lunch & Dinner, Quad occupancy*
$550 – Tuition, Lunch & Dinner, Double occupancy*
(Counselors provided for teens without parents)
Elementary Students (ages 8-13)
$195 – Tuition (Lunch options available)
$79 – $99 nightly accommodation for families
(803) 802-5544;0 – MorningStar Front Desk
Private Lesson Intensive (ages 14+)
$375 – Tuition, Lunch & Dinner
$480 – Tuition, Lunch & Dinner, Quad occupancy*
$580 – Tuition, Lunch & Dinner, Double occupancy*
Our desire is that no student be turned away due to finances. If you want to come, God will make a way. [Limited Scholarships available.]
*Does not include Friday night accommodation
Location
[Charlotte, NC Area]
Comenius School for Creative Leadership
8160 Regent Park Drive, Fort Mill, SC 29715
Classes:
Daily Masterclasses (see parent notes)
Note reading/rhythm class (Theory for intermediate/advanced students)
Worship team class (group) – team building skills along with improvisation
Personal practice and mid-day concerts (faculty and worship teams)
Fun electives and activities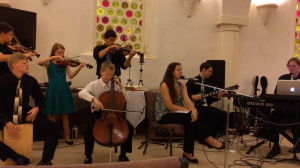 Camp Goals
Beginning Students will…
Be able to play at least one piece with excellent posture and beautiful tone
Learn all the notes on the staff and have understanding of the circle of fifths
Develop ability to read rhythms steadily and improvise using rhythm
Learn naturally through their five senses 
Intermediate Students will…
(Pre-req. 1 year of experience with lessons, able to play 5 scales and 5 worship songs in multiple keys) 
Develop ability to improvise and ability to flow in worship (personally and as a team).
Increase skill on a primary and secondary instrument (including voice)
Develop and refine note reading skills and understanding all 12 keys,
Memorize, (sing) and interact with one chapter of scriptures
Increase skill on a primary instrument and/or secondary instrument or voice
Sample Schedules
Sample schedule for older students:
9:00 Master class (semi private lesson)
10:05 Practice hour
11:15 Note-reading/theory class
12:15Lunch
12:55Midday Concert
1:30Worship team coaching/secondary instrument or voice coaching
2:35 Practice
3:45 Elective
4:45 Free Time
5:45 Dinner
6:30Group activity
Sample schedule for elementary students
9:00Masterclass
10:05 Worship team/Group Improvisation
11:15 Practice hour
12:55Midday Concert
1:15Note reading
2:15Elective
Electives Include: keyboard, guitar, violin, flute, cello, |art (painting), photography, dance, tennis
(elective availability subject to change)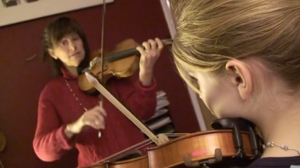 The Suzuki Method
…is learning by ear until mastery of the instrument is achieved, then learning to note read. This method is excellent for students wanting to worship on their instrument, and to develop the ability to play what they hear (sounds of heaven).
Note to Parents
This camp is excellent for :
Beginning students or those wanting to learn a secondary instrument quickly. Because students are with a teacher in a daily Masterclass, a joint individual lesson with other students, the beginner never develops bad habits in the early stages, causing them to learn 3x as fast.
Those who want to learn keyboard or guitar for personal worship, and improve their voice.
Students who want the experience of improvising on a worship team.
Musicians wanting to improve their tone, and technique (5 hours daily of playing for five days)
Issues of the Heart
Technique is taught, heart is caught. We want to develop community, especially for the older students, so we can address issues of the heart. Therefore, meals together are important, as well as concerts, fun activities, & electives. The faculty were chosen not only for their ability to teach but because of excellence in character. Master teachers will be coming from Ohio, UNC Charlotte, Kansas City, Davison & New Orleans.
Parents Role:
The "Suzuki Triangle" includes teacher, parent, and student. Therefore the parent is expected to accompany the elementary student and young teen to their lessons daily as well as theory, in order to maximize the student's instruction.
This is not a drop off camp for elementary students! 
Parent Involvement is proportional to levels of success!